Mental Health Crisis Help:
9-8-8 has been designated as the new three-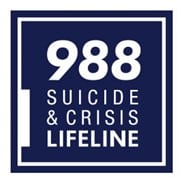 digit dialing code that will route callers to the National Suicide Prevention Lifeline (now known as the 988 Suicide & Crisis Lifeline), and is now active across the United States.
Colorado Crisis Services –  Colorado Crisis Services is the statewide behavioral health crisis response system offering mental health, substance use or emotional crisis help, information and referrals.
Parker Pediatrics Psychology Program
Pediatric Behavioral Health Services
The psychology department at PPA strives to provide high quality, short-term, pediatric behavioral health services to current patients and their families.  Services include individual and family therapy, as well as ADHD evaluations.  As a primary care pediatric practice, our goal is to work on improving difficulties within 20 bi-weekly sessions and then transitioning to check-in sessions four to six times a year, as needed.  Our psychologists, counselors, and medical providers regularly collaborate to provide our patients the most comprehensive care possible.
Pediatric Behavioral Health
Behavioral and mental health are essential for overall health for people of all ages, including children. Pediatricians are seeing an increase in office visits for issues, such as anxiety, depression, attention problems or behavioral issues, in their young patients. To provide well-rounded care that addresses the needs of the whole person, Parker Pediatrics is proud to have integrated the physical and behavioral/mental aspects of care into our practice for more than a decade.
Why is Pediatric Behavioral Health Important?
Adolescent Behavioral Health Studies
Up to 20 percent of children in the United States experience a mental health disorder in a given year, according to 2013 statistics presented by the Centers for Disease Control and Prevention (CDC). The pandemic has worsened the situation – a review of recent research found that more than a quarter of high school students reported worsening cognitive and emotional health and one in five parents with children between the ages of 5 and 12 reported similar worsening conditions.
These problems often interfere with a child's daily activities, education, and sleep. Mental health issues can hinder a student's performance by negatively affecting their energy level, concentration, mental ability, dependability, and optimism. In fact, research shows some types of depression are associated with lower grade point averages and higher dropout rates. The Sleep Foundation says that certain mental health conditions, such as anxiety disorders, ADHD, and autism spectrum disorder, are closely associated with sleep disorders. Mental health and behavioral issues can interfere with a child's daily life by causing them to miss school, exhibit out-of-control behavior or mood swings, and withdraw from social interactions.
Behavioral Health Effects
A child's behavioral issues or mental health can greatly affect the entire family, causing tension, uncertainty, stress, and even significant changes within the family. These issues can also have a negative effect on a family's financial and emotional components.
Behavioral and mental health problems can also be a source of many physical ailments, such as abdominal pain and headaches. These physical manifestations can make behavioral and mental health issues difficult to diagnose and difficult to live with.
How Parker Pediatrics Can Help
The pediatricians at Parker Pediatrics can help detect, diagnose, and address many behavioral and mental health issues affecting children today. Pediatricians are in a unique position to observe a child's development over the years, and have the training and expertise to detect signs of behavioral and mental health issues in children and adolescents. Our pediatricians and team of pediatric professionals work to serve our patients in all areas of their healthcare, including children's behavioral health services.