Influenza and Pediatric Flu Shots in Colorado
Pediatric flu shots are a safe and effective way to protect your child from the flu. The Centers for Disease Control and Prevention (CDC) recommends that all children aged six months or older receive the flu vaccine every year. The best time to get the flu vaccine is before the start of the flu season, which typically begins in October.
Parker Pediatrics Flu Clinic Information
Our clinics will be returning to pre-pandemic protocols:
All paperwork and payments will be taken in the office during clinics.
All forms for patients and parents should be downloaded using links below, completed, and brought with you to your appointment in order to expedite the check in process.
Clinics will be by appointment only.
Walks-ins cannot be accommodated this year.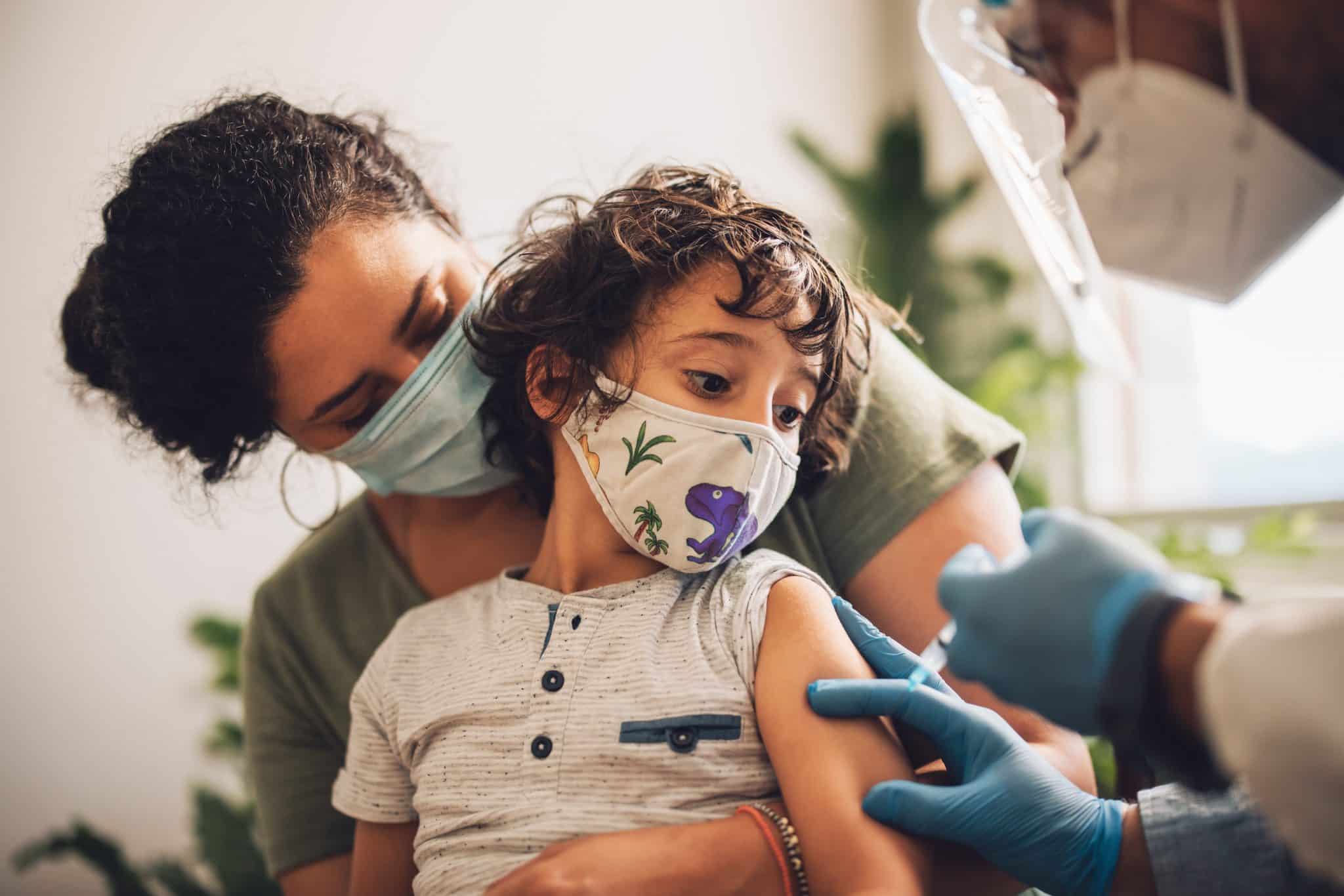 Is the Flu Vaccine Worth It?
As a parent, you want to ensure that your child is healthy and happy. One of the best steps you can take is to make sure that your child has all recommended vaccinations, including the flu vaccine. Flu (or Influenza) is an infectious respiratory illness caused by viruses. It is highly contagious and each year, thousands of people become ill with influenza and suffer from severe symptoms that could lead to hospitalization. While there are antiviral medications available to treat the flu, the best way to protect your children from flu-related illnesses is by getting them vaccinated against it.
Not only is it an effective preventive measure but it also helps protect those around them, such as friends and family members who could otherwise be infected from their exposure. Immunizing your child with the flu vaccine each year may be one of the best decisions you can make to help keep your family safe and healthy.
Dosage of the Pediatric Flu Vaccine
Depending on their age, children should receive either one or two doses of the flu vaccine over a span of weeks between September and December. It is crucial that both doses are administered within this timeframe or your child will not receive optimal protection throughout flu season.
Those aged 6 months or older should receive the flu vaccine as recommended by your doctor or pediatrician.
Infants/toddlers and children under 9 years old are recommended to receive a two flu vaccine doses at least one month apart to complete the initial dosing guidelines.  
Side Effects of the Flu Vaccine
When making the decision to get your child vaccinated against the flu, it's important to be informed about potential side effects.
Generally speaking, most children experience no serious reactions or adverse effects from having a flu vaccine, but mild reactions can still be uncomfortable.
Side effects of the flu vaccine may include:
sore arm at the injection site

low-grade fever

unusually sleepy or irritable following the vaccine
For most children, however, these effects are minor lasting no more than two days and can easily be managed with over-the-counter pain relievers and fever reducers like ibuprofen and acetaminophen as directed by your physician.
Pediatric Flu Vaccine Information and Forms
Vaccine Information Sheets (VIS) for Information Purposes Only
Fillable Consent Forms to Print
PATIENT FLU CONSENT 2023-2024 – One form to be completed for each child who will be coming to the flu clinic.  Please complete all required fields.
ADULT FLU CONSENT 2023-2024 – One form to be completed for each parent/adult who will be coming to flu clinic.  Please complete all required fields.  Parents will be required to provide credit card payment at the time of the appointment since these are not billed to insurance.
| Day | Date | Time | Status |
| --- | --- | --- | --- |
| Wednesday | 09/06/2023 | 6:00 to 8:00 PM | OPEN |
| Wednesday | 09/27/2023 | 6:00 to 8:00 PM | OPEN |
| Wednesday | 10/11/2023 – Trunk or Treat | 6:00 to 8:00 PM | OPEN |
| Wednesday | 11/08/2023 | 6:00 to 8:00 PM | OPEN |
| | | | |
| | December – TBD | | |
| | | | |
| | | | |
| | | | |
As we have done in the past, we will have some afternoon clinics on Tuesdays, Thursdays, and Fridays in September.  These clinics are reduced in size and availability.   Check on openings when calling to schedule.
All flu clinics are by appointment only.  Walks-ins cannot be accommodated.
We will not perform any other services during these clinics.  These are

only

for the administration of vaccines.
Since some children need two vaccines, please schedule accordingly and take into consideration any pre-scheduled office visits.
Despite large numbers, our clinics run smoothly with minimal waiting.  Please come at your appointed times.
No COVID vaccines will be administered during Flu Clinics.  If needed, would need a separate nursing appointment.
What are Flu Symptoms in Children?
Influenza is a viral illness that causes a significant fever, chills, cough, and muscle aches. It can last as long as a week. More serious complications are possible. It appears every winter, some years worse than others.
If your child has the flu, you may notice one or more of the following symptoms:
Fever
Coughing
Sneezing
Runny nose
Body aches and pains
Headache
Fatigue (tiredness)
Vomiting and/or diarrhea
---
Influenza Information 2023-2024 – Effective 08/28/2023
Please read the following information carefully and save for future reference.
The flu vaccine can prevent influenza, or at least lessen its severity. It contains strains of influenza which are most likely to occur this winter. It does not prevent against all types of flu or other illnesses that resemble flu.
This year we will only be offering the injectable vaccine.
It is recommended that all persons over 6 months of age should receive a flu vaccine. Those under age 9, who have not received at least two flu vaccines in the past, will need two vaccines scheduled four weeks apart. Everyone else just needs one.
There are two ways your child can receive a vaccine:
It can be given during a regularly scheduled office visit. If siblings are present during another siblings regular scheduled visit, we will also give them theirs, as long as you inform us ahead of time.
It can be given at one of our flu clinics. Appointments in advance are required.
As in previous years, parents may receive a flu vaccine at the time of their child/children's scheduled health supervision exam and/or acute appointments.  Our front office staff will inquire about this at your check-in.
Parents may also receive a flu vaccine at our clinics; however, these must be scheduled in advance.  Payment will be required at the time of service.  The cost for parent vaccines is $35.
For our patients, we submit charges to their insurance and only bill for any copay or coinsurance that may be required.